Mythicals: A Scifi/Fairy Tale Thriller
They're real: fairies, pixies, werewolves, ogres!
They're aliens!
Drunken journalist Jack March can't believe his bleary eyes when he stumbles onto a winged fairy! She vaults away into the night sky, and his unbelievable—and unbelieved—encounter leads to a stunning revelation that all the creatures of myth and legend are real!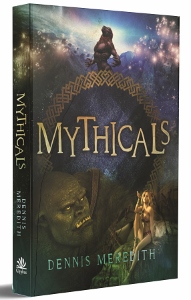 Fairies, pixies, trolls, werewolves, ogres, vampires, angels, elves, bigfoot—all are alien exiles to the planet. For their crimes, these "mythicals" are serving out banishment disguised in flesh-suits enabling them to live among the planet's natives.
Jack reveals their secret to the world, along with a horrendous discovery: they have decided that the native "terminal species" must be eradicated before it ruins its planet's ecology.
In this riveting scifi/fairy tale, Jack joins with sympathetic fairies, pixies, and ogres to attempt to save the planet from the mythicals, as well as the mysterious alien cabal known as the Pilgrims.
Recipient of a BRAG medallion from the Book Readers Appreciation Group
Finalist in the Eric Hoffer Awards
2020 Distinguished Favorite, New York City Big Book Awards, fantasy category
Read these reviews:
A meticulously orchestrated genre mashup with an urgent, heartfelt message... wickedly clever adventure... slams home an environmental lesson in a manner that few novels attempt. Kirkus Reviews
---
… the nonstop, ever-evolving plotline, relatable characters, and a glimpse into how science fiction and fantasy can merge successfully make this book a must-read. US Review of Books
---
… a fascinating mix of science fiction, dystopian, and fantasy [a world] filled with danger, love, intrigue, and urgency… the author not only entertains, he opens up these genres to new twists, creating a fresh and enjoyable read. This book is full of fantastic descriptions and colourful characters. The journey drew me in with vivid writing and a wonderful, distinctive concept. Readers' Favorite
---
Lovers of fantasy will be swept away by the story and characters in this amazing new book by Dennis Meredith . . . He has brought together in this amazing story a cornucopia of mythical creatures and fairy-tale characters, fairies, pixies and angels, ogres, werewolves and many more. Midwest Book Review

---
... a refreshing, captivating, thought provoking tale that gripped me from the beginning and never let me go.
The world building made the scenes come to life in my mind. The characters were fully developed and I am amazed at the depth and detail of their personalities.

The intrigue grows very deep. The amazing concept twisted and turned, giving me surprise after surprise, and I reveled in it. Sadness and laughs, I felt them equally. Fundinmental
---
… a fascinating blend of fantasy and science fiction that will grab your attention and hold it until the exciting conclusion…. A story with humor, mystery, action, and danger….the perfect book to settle down with in front of a blazing fire. Charles Ray's Ramblings.
Explore the sources that inspired Mythicals
Read this article about Mythicals' origin
Read this feature on Dennis Meredith
Read a "true" story behind Mythicals