Coming in 2023
The Climate Pandemic
How Climate Disruption Threatens Human Survival
Much of what you've been told about climate disruption are myths
The COVID-19 coronavirus pandemic has created a massive health and economic catastrophe that will reverberate throughout society for many years. However, society will recover.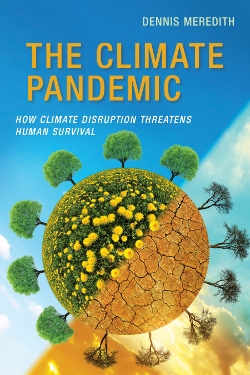 In tragic contrast, we are in the midst of an infinitely more serious "climate pandemic." Unlike the viral pandemic, it is never-ending. People will not become immune to its hazards. Nor will there be the equivalent of vaccines or drugs to treat it. In fact, the climate pandemic will steadily worsen, even threatening extinction, unless we launch a global political, economic, and technological revolution in our carbon-dependent energy system.
The most comprehensive book on climate disruption, The Climate Pandemic offers profound new insights into the science, technology, politics, economics, and psychology that determine our climate future.
The Climate Pandemic reveals:
Why current plans to limit global heating will fail to avoid climate catastrophe.

Why decarbonizing our energy system is a delusion.

The mechanisms underlying climate-driven heat waves, megadroughts, wildfires, floods, and superstorms.

The human impacts of climate disruption: increased toxicity and disease, famine, migration, war, and societal collapse.

The psychological barriers that have prevented people from understanding and acting to mitigate climate disruption

How climate "de-nihilists" have sabotaged solutions.

Why the media, scientists, environmentalists, corporations, and politicians have failed to help mitigate climate disruption.

How the Paris agreement, renewable energy, carbon capture, geoengineering, and nuclear power are unrealistic panaceas.

Why the human species will not ultimately survive the unrelenting onslaught of climate disruption.
The Climate Pandemic includes an extensive bibliography of references on climate disruption, with more than 1,700 hyperlinked entries. These include peer-reviewed scientific papers, books, and reports from government and international agencies and scientific associations.