The Happy Chip
You feel ecstatic! Until you kill yourself.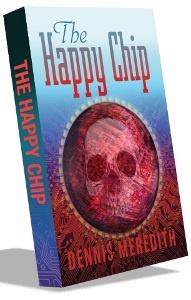 The Happy Chip is the latest nanoengineering wonder from the high-flying tech company, NeoHappy, Inc.. Hundreds of millions of people have had the revolutionary chip injected into their bodies to monitor their hormonal happiness and guide them to life choices, from foods to sex partners.
Given the nanochip's stunning success, struggling science writer Brad Davis is thrilled when he is hired to co-author the biography of its inventor, billionaire tech genius Marty Fallon.
That is, until Davis learns that rogue company scientists are secretly testing horrifying new control chips with "side effects"—suicidal depression, uncontrollable lust, murderous rage, remote-controlled death, and ultimately, global subjugation.
His discovery threatens not only his life, but that of his wife Annie and their children. Only with the help of Russian master hacker Gregor Kalinsky and his gang can they hope to survive the perilous adventure that takes them from Boston to Beijing.
The Happy Chip, an edge-of-your-seat thriller, spins a cautionary tale of unchecked nanotechnology spawning insidious devices that could enslave us. It dramatically portrays how we must control our "nanofuture" before it's too late.
Read the reviews:
One of the year's best medical thrillers
"A hugely satisfying blend of ripped-from-the-headlines science fiction and suspense, The Happy Chip is one of the year's best medical thrillers. Highly recommended." Science Thrillers

...a thriller that excels in high-octane twists and turns.
"The Happy Chip's special blend of terrorism and high-tech threat is believable, engrossing, and hard to predict: the perfect thriller for readers seeking a solid blend of science and danger in their adventure stories, and very highly recommended for its ultimate consideration of madness, sanity, and what happens when knowledge turns into an opportunity for unlimited power." D. Donovan, Senior Reviewer, Midwest Book Review
Science fiction at its very best!
"This fast paced exciting science fiction thriller takes its reader through its pages on a fantastic roller coaster ride, on an adventure where murder, intrigue, mystery, secrets, and lies all wait to enthral. It is a book you will quite simply not want to put down." Susan Keefe, Midwest Book Review

Explore some of the sources that inspired the book
Read how The Happy Chip was born
NeoHappy, Inc.
Knowledge for the Best Life You Can Live