Home
Welcome to the web site of Dennis Meredith, veteran science communicator and author of science thrillers.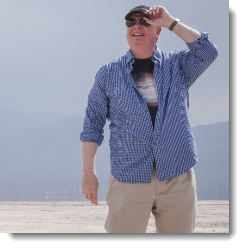 ---

Somebody has stolen the most beautiful cat in history!
The Cerulean cat, with its mesmerizing iridescent blue fur, is the ultimate genomic engineering triumph of the high-flying company, Animata.
It's 2050, and Animata reaps massive profits creating and selling a marvelous menagerie of animals—including exotic crosses like cogs, dats, snurtles, alliphants, hamakeets, and feather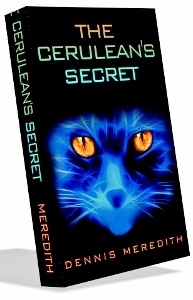 boas. Its ultra-rich clients, however, clamor for the really spectacular specimens—dragons, unicorns. . . and now the Cerulean. The stunning cat had promised to bring billions of dollars from a corporation, private collector or exhibitor.
Swept up in the mystery is naïve young Timothy Boatright, a wanna-be writer who's driving a cab in New York. He inadvertently picks up the thief and the nabbed Cerulean. The cops suspect him of complicity in the crime, and to prove his innocence and save the cat, he tracks it down and steals it back.
He ends up accused not only of catnapping but murder—fleeing the police, Animata thugs, a greedy drug lord. . . and Big Nasties! Somebody has programmed these 300-pound assassin-animals—with their three-inch fangs, razor claws, night vision, and sonar—not only to kill Tim, but shred him.
Amidst this mayhem, Tim realizes that the Cerulean was stolen and marked for death because its genes hold some explosive mystery he must solve to survive. He must also save his friends held for ransom—the middle-aged, cat-loving former spy Callie Lawrence and her headstrong daughter Lulu, with whom Tim has fallen madly in love.
The Cerulean's Secret is a fast-paced thriller that projects today's amazing genomic technology into a future of incredible biological manipulation. Its witty neo noir style and vivid prose lure the reader into an adventure that extends the traditional science fiction genre into new literary territory.
"A hilarious, wildly imaginative sci-fi caper that never lets up until the very last page." Best Thrillers review
"What a fun book! Pure fantasy, but I did enjoy it immensely! The idea of a huge blue cat, friendly, but independent, as they all are, was right up my alley in a good read. The intrigue and fascination with what is coming in the future (2050) was enough to keep me reading. Most teens and up will thoroughly enjoy this book. I plan to share this one with a 16 year old of mine that "lives in a fantasy world sometimes" and I am sure she will love it. Even if cats and egotistical young men aren't something you particularly want to read about, I recommend it for most all ages. Wholesome and entertaining!" Betty Yoder
"I found this book very easy to read but very hard to put down. The vivid descriptions of the characters and settings Dennis Meredith penned here had me visualizing the scenes as they played out like a science fiction movie. The story line moves at a good pace and the action is non stop which keeps the reader engrossed I think. Timothy, Lulu, Callie, and, of course, the beautiful Cerulean cat are easy to cheer for to be the heroes of this fantastic futuristic tale filled with adventure and intrigue. The Nasties and some of the other genetically modified animals created in the science labs in this story gave me the creeps though. I do love the authors use of palindromes throughout the story as they add some humor to this already fun book. I definitely recommend this to all ages who like futuristic, science fiction mysteries. I look forward to reading more from Mr. Meredith in the near future." Pammysue
"Raymond Chandler meets Philip K. Dick & Roger Zelazny in this futuristic gumshoe tale of a man and his cat. While getting off to a slow and Hemingway-esque start, Mr Meredith quickly gets us involved in the story and the characters making them real and flawed and all the more likable. Add to all this all the twists and turns of a good mystery and you have a good read on your hands. It doesn't hurt that you have as a character a cat who is the holy grail and the Maltese falcon all rolled into one. I especially liked the fact that there wasn't a lot of "woe is me" coming from the put upon hero. He was up for the challenge and willing to take risks for others without so much as one "I just want to quit". Meredith's contribution to the mystery genre is a good bridge between Phillip Marlowe and Rick Deckard." Penny Rosier
"… a great mystery of the future… fascinating and thought provoking." Mennis
"It's exciting from the beginning and lots of twists and turns. Would recommend this book to anyone!" Kim Lanton

Read the news release: "The Cerulean's Secret asks 'What if there was a blue cat?'"

Explore some of the sources that inspired the book
Order very cool Cerulean's Secret products
Get The Cerulean's Secret Young Adult Edition Kindle eBook
---

New! Solomon's Freedom Young Adult Edition on Amazon!
Solomon's Freedom
Can they take his heart if he has a soul?
Solomon is an extraordinary chimpanzee, taught by primatologist Abigail Philips to understand and use language. But her research center is under a financial death sentence from her university. Desperate to save Solomon from what, for him, would be a dismal life in a retirement facility, Philips agrees to give legal control of Solomon to billionaire Walter Drake. He has agreed to house Solomon in comfort and enable her pioneering communication research to continue.
But the ailing billionaire has really bought himself a heart! He betrays Philips, planning to "harvest" Solomon's heart to biologically engineer it to replace his own failing heart. The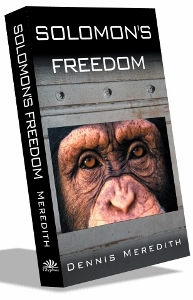 procedure will not only doom Solomon. Its success will also sentence a thousand chimpanzees in sanctuaries to death on the operating table, and lead to industrial breeding of chimpanzees for organ harvesting.
Solomon's only hope is flamboyant LA trial lawyer R. William "Bobby" Colter, defender of whoever pays his considerable fee. Hired by eccentric dowager Sarah Huntington, he sets out to win the most difficult case of his career: obtaining legal protection for Solomon.
Can Colter succeed against all legal precedent and free Solomon, or will the chimpanzee die at the hands of surgeons, a harbinger for the end of a thousand of his brethren?
Author Dennis Meredith has crafted a gripping, thought-provoking story that resonates with emotion. It also sheds dramatic light on the profound ethical issues of legal rights for our closest living primate relatives.
Read reviews:
A great read. The Nonhuman Rights Project
Solomon's Freedom, by Dennis Meredith, is a grand slam. It's a thriller with fabulous characters, witty dialogue, plenty of action, and most importantly, it raises questions about whether man's closest neighbor in the animal kingdom should be granted any rights. The North Country Review of Books
You do not have to be either an animal lover, an ape admirer or a fan of controversial courtroom dramas to get deeply immersed into this book. Thoroughly engaging and sharply observed, with some odd moments of high farce, but nonetheless still a compelling drama. Darkness Beckons reviews
"Dennis Meredith does an excellent job of producing a thought provoking story with likeable, and in some cases, unlikeable characters. Solomon's Freedom is a heart touching story about the moral and legal rights of animals. It is definitely an eye opener toward the plight of the injustices that are inflicted upon animals." Jael
"It is fantastic. It's very well written and moves at a brisk pace. Highly recommended." Jamie
"I became so involved in the story that I had tears in my eyes after staying up to read it to the finish." Veronica Lynne (Amazon Canada)

"I enjoyed reading this book and rooted for Solomon throughout the entire story. If you like animals, you will like this book. A very easy and enlightening read." Barbara
"I loved this. It has opened my eyes to the abuses and injustices suffered by all animals. I dare you to read this and not want to join an animal rights group. They do have feelings. They should not be considered property. The laws need to change now." Sheryl
Read the news release: New Novel Solomon's Freedom Dramatizes Controversy over Chimpanzee Rights

Explore some of the sources that inspired the book
---
Wormholes: A Novel

Something is devouring Earth. . .
A suburban house in Oklahoma vanishes into a roaring abyss. A supertanker at sea suffers a fiery destruction. A blast in China drills a gigantic cavern into a mountainside. A severed arm plummets from the sky in Missouri.
Could these catastrophes possibly be related? Intrepid geologist Dacey Livingstone is nearly killed by her first attempt to plumb the mystery—a perilous descent into a house-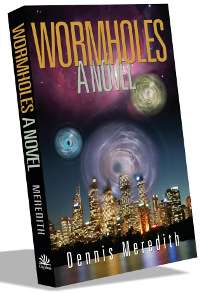 swallowing sinkhole. Still determined, she joins with eccentric physicist Gerald Meier in a quest that takes them from the ocean's depths to interstellar space.
What are these exotic "wormholes" that threaten Earth? Can their secrets be discovered, their power even harnessed? Or will they spawn a cosmic monster that will annihilate the planet?
Brilliantly original, Wormholes reflects Albert Einstein's famous assertion that "Not only is the universe stranger than we imagine, it is stranger than we can imagine."
Veteran science writer Dennis Meredith has crafted this astrophysical adventure drawing on his decades of experience working at leading research universities such as Caltech, MIT, Cornell and Duke.
Read chapter 1 of the Young Adult Edition

Read reviews:

"A spectacularly written apocalypse thriller that seems destined for the big screen." Best Thrillers

"... a first rate thriller in the best tradition of hard science fiction... a wonderful, likable cast of characters and the descriptions of the wormhole 'events' are fast-paced, vivid, and in some cases downright scary." Jeff Soyer, Alphecca.com
"The story takes the idea of wormholes and alternate universes, both scientific facts, and puts a spin on the concepts, writing a brilliantly creative book that stretches known boundaries, reaching beyond known scientific thought into a world of science fiction that kept me up until three in the morning, 'just one more page, just one more page . . .' Leiah Cooper, So I Read This Book Today...
...a ripping good yarn that moves swiftly from one disaster to another... a thrilling ride, crisply told. Physicist Gerald Meier and plucky geologist Dacey Livingstone are well realized, as are the other main characters, the scientists especially; science-writer Meredith knows the tribe's passions, insecurities, arrogances, occasional evasions, quirks, and dirty tricks, all its strengths and foibles. Paul Preuss, Fiction & Science
Explore some of the sources that inspired the book
Read blog post Wormholes Author is a Liar and Thief . . . But Says It's O.K.
Read "Science Book a Day" interview with Dennis Meredith
---

The Rainbow Virus, Second Edition

It's the weirdest bioterrorism attack ever!
Loner scientist Arthur Lupo at first seems the most eccentric bioterrorist of all time. After vanishing from his lab at a biotech company, he releases viruses that only turn their victims a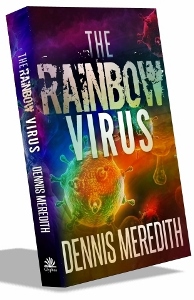 palette of colors. But then his chief pursuers—disgraced FBI agent Bobby Loudon and obsessive CDC epidemic-tracker Kathleen Shinohara—discover a horrifying fact. The brilliant Lupo has stolen the world's most lethal viruses from the Army's bioterrorism center.
Lupo reveals that his first viruses were only a test. He dramatically proves their infectivity by transforming the terrified citizens of Denver into a rainbow of colors. In a chilling declaration, he announces that he will now release an unstoppable artificial virus whose spread will decimate the world's population.
Loudon and Shinohara must race against time, a mysterious assassin, and a secret government faction to find Lupo and stop him.
The Rainbow Virus, Second Edition is a gripping, realistic bioterrorism tale that launches readers on a harrowing adventure with the flips and plunges of the wildest roller coaster.
Author and veteran science writer Dennis Meredith has spun this riveting tale drawing on his decades of experience working at leading research universities including Caltech, MIT, Cornell, and Duke.
In this Second Edition, Dennis Meredith has recrafted his science thriller to make it even more dynamic and exciting.
Read the blog post, "Should an author rewrite a published novel? I did."
Read reviews:
Read Amazon reviews (First Edition)

The characters are colorful (no pun intended) and the story is well-written. There is plenty of suspense, romance, action, and even some moments of levity. Fans of medical thrillers will love this book and other readers can also find plenty to enjoy within its covers. Amazon Customer

A page turning science fiction detective novel with a little romance and some tongue-in-cheeck humor. Science fiction with an emphasis on science ala Issac Asimov and detective/romance like Harlan Coben or Lee Child. A fast read with pauses for laugh-out-loud humor like Dave Barry. Would be a great beach read, but don't wait...curl up this winter with a must-read book!! Vicster
A rogue scientist has developed a complex virus that changes people's colors to mark that they have been infected. The bad part is that this is just stage one of his master plan to infect the world with the most deadly virus ever known. This story follows a drunken, burned out FBI agent and a beautiful CDC scientist as they race to find the madman and stop him. The story has many twists and turns and includes a love story, a hit man, army black ops, work tension, and race issues. It combines to be fast paced and interesting. Tamara Oklahoma

Read Goodreads reviews (First Edition)

Read LibraryThing reviews (First Edition)

Explore some of the sources that inspired the book