Hello,

To get your free ebook of Solomon's Freedom from NetGalley, first click here to register on the NetGalley site (This is the Solomon's Freedom download invitation page). Make sure your password has letters and numbers. You'll receive a confirmation email, and you can then come back to the download page and click on the sign-in link. You'll be able to download the ebook or send it to your Kindle. Some instructions: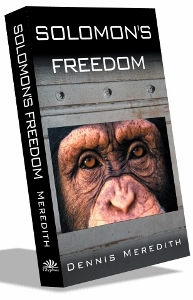 You can also order a print copy of Solomon's Freedom, at a special discount ($10.95). To obtain the discount, enter the discount code 8HYWN4VT at the appropriate place in the order blank.
I hope you enjoy Solomon's Freedom, and that you'll consider posting a review on Amazon.com, or elsewhere. Such reviews are critical to a book's success, and it would be much appreciated!
Please feel free to share the URL www.SolomonsFreedomEbook.com with others.

Cheers,
Dennis
---
 Description:

Can they take his heart if he has a soul?
Solomon is an extraordinary chimpanzee, taught by primatologist Abigail Philips to understand and use language. But her research center is under a financial death sentence from her university. Desperate to save Solomon from what, for him, would be a dismal life in a retirement facility, Philips agrees to give legal control of Solomon to billionaire Walter Drake. He has agreed to house Solomon in comfort and enable her pioneering communication research to continue.
But the ailing billionaire has really bought himself a heart! He betrays Philips, planning to "harvest" Solomon's heart to biologically engineer it to replace his own failing heart. The procedure will not only doom Solomon. Its success will also sentence a thousand chimpanzees in sanctuaries to death on the operating table, and lead to industrial breeding of chimpanzees for organ harvesting.
Solomon's only hope is flamboyant LA trial lawyer R. William "Bobby" Colter, defender of whoever pays his considerable fee. Hired by eccentric dowager Sarah Huntington, he sets out to win the most difficult case of his career: obtaining legal protection for Solomon.
Can Colter succeed against all legal precedent and free Solomon, or will the chimpanzee die at the hands of surgeons, a harbinger for the end of a thousand of his brethren?
Author Dennis Meredith has crafted a gripping, thought-provoking story that resonates with emotion. It also sheds dramatic light on the profound ethical issues of legal rights for our closest living primate relatives
 "A great read." The Nonhuman Rights Project
Solomon's Freedom, by Dennis Meredith, is a grand slam. It's a thriller with fabulous characters, witty dialogue, plenty of action, and most importantly, it raises questions about whether man's closest neighbor in the animal kingdom should be granted any rights. The North Country Review of Books
"Dennis Meredith does an excellent job of producing a thought provoking story with likeable, and in some cases, unlikeable characters. Solomon's Freedom is a heart touching story about the moral and legal rights of animals. It is definitely an eye opener toward the plight of the injustices that are inflicted upon animals." Jael
"It is fantastic. It's very well written and moves at a brisk pace. Highly recommended." Jamie
"I enjoyed reading this book and rooted for Solomon throughout the entire story. If you like animals, you will like this book. A very easy and enlightening read." Barbara
"I loved this. It has opened my eyes to the abuses and injustices suffered by all animals. I dare you to read this and not want to join an animal rights group. They do have feelings. They should not be considered property. The laws need to change now." Sheryl
Read the news release: New Novel Solomon's Freedom Dramatizes Controversy over Chimpanzee Rights
Explore some of the sources that inspired the book