(For further information and to purchase, go to The Cerulean's Secret web page.)
The Cerulean's Secret asks
'What if there was a blue cat?'

What if there was a blue cat? That oddball question first popped into author Dennis Meredith's head some forty years ago, while he was the news office director at Caltech. The result, decades later, is his newly published science fiction novel, The Cerulean's Secret (Glyphus LLC).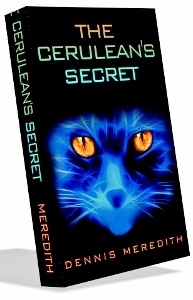 The eccentric notion continued to nag at him, as he witnessed first-hand the advance of the genetic engineering revolution through the decades that followed—from its beginning at Caltech with the invention of the first DNA sequencing machine.
As the technology evolved, so did the story of his imaginary blue cat; and he began crafting the novel some two decades ago, as genomic science fiction became science fact.
Set in 2050, The Cerulean's Secret envisions the rise of a lucrative industry of genomically engineered pets. In particular, the high-flying company Animata reaps massive profits creating and selling a marvelous menagerie of animals—including exotic crosses like cogs, dats, snurtles, alliphants, hamakeets, and feather boas. Its ultra-rich clients, however, clamor for the really spectacular specimens—dragons, unicorns. . . and the newest, the Cerulean cat with its mesmerizing iridescent blue fur. The stunning cat had promised to bring billions of dollars from a private collector, corporation, or exhibitor.
But the cat, dubbed the most beautiful in history, is stolen!
Swept up in the catnapping is naïve young Timothy Boatright, a wanna-be writer who's driving a cab in New York. He inadvertently picks up the thief and the nabbed Cerulean. The cops suspect him of complicity in the crime, and to prove his innocence and save the cat, he tracks it down and steals it back. He ends up accused not only of catnapping but murder—fleeing the police, Animata thugs, a greedy drug lord. . . and Big Nasties! Somebody has programmed these 300-pound genetically engineered assassin-animals—with their three-inch fangs, razor claws, night vision, and sonar—not only to kill Tim, but shred him.
Amidst this mayhem, Tim realizes that the Cerulean was stolen and marked for death because its genes hold some explosive mystery he must solve to survive. He must also save his friends held for ransom—the middle-aged, cat-loving former spy Callie Lawrence and her headstrong daughter Lulu, with whom Tim has fallen madly in love.
The Cerulean's Secret is a fast-paced thriller that projects today's amazing genomic technology into a future of incredible biological manipulation. Its witty neo noir style and vivid prose lure the reader into an adventure that extends the traditional science fiction genre into new literary territory.
"Being a science writer, I aim in my novels to extrapolate my stories from real science, which is sometimes even wilder than any science fiction," he says. "The Cerulean's Secret was just such a novel, because as I wrote it over many years, many of the devices I envisioned for 2050—from robot snakes, to virtual-reality glasses, to quantum computers—kept showing up as real-life technology." In fact, Meredith posts lists of resources for his novels; and those for The Cerulean's Secret can be found here.
"And, although I wanted to tell an exciting story, I also wanted to explore the critical moral and ethical issues raised by our growing ability to genetically engineer life."
In a unique publishing practice, Glyphus is also publishing a Kindle young adult edition of The Cerulean's Secret, along with the adult edition. The young adult edition has been edited to eliminate adult language and situations.
Meredith is a veteran science writer who has worked at some of the country's leading research institutions—besides Caltech including MIT, Cornell, Duke, and the University of Wisconsin. He is author of science fiction novels The Rainbow Virus, Wormholes, Solomon's Freedom, The Happy Chip, and The Neuromorphs. He is also author of the nonfiction Explaining Research (Oxford 2010).