The Cerulean's Secret
Somebody has stolen the most beautiful cat in history!
The Cerulean cat, with its mesmerizing iridescent blue fur, is the ultimate genomic engineering triumph of the high-flying company, Animata.
It's 2050, and Animata reaps massive profits creating and selling a marvelous menagerie of animals—including exotic crosses like cogs, dats, snurtles, alliphants, hamakeets, and feather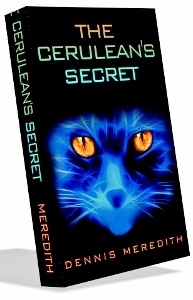 boas. Its ultra-rich clients, however, clamor for the really spectacular specimens—dragons, unicorns. . . and now the Cerulean. The stunning cat had promised to bring billions of dollars from a corporation, private collector or exhibitor.
Swept up in the mystery is naïve young Timothy Boatright, a wanna-be writer who's driving a cab in New York. He inadvertently picks up the thief and the nabbed Cerulean. The cops suspect him of complicity in the crime, and to prove his innocence and save the cat, he tracks it down and steals it back.
He ends up accused not only of catnapping but murder—fleeing the police, Animata thugs, a greedy drug lord. . . and Big Nasties! Somebody has programmed these 300-pound assassin-animals—with their three-inch fangs, razor claws, night vision, and sonar—not only to kill Tim, but shred him.
Amidst this mayhem, Tim realizes that the Cerulean was stolen and marked for death because its genes hold some explosive mystery he must solve to survive. He must also save his friends held for ransom—the middle-aged, cat-loving former spy Callie Lawrence and her headstrong daughter Lulu, with whom Tim has fallen madly in love.
The Cerulean's Secret is a fast-paced thriller that projects today's amazing genomic technology into a future of incredible biological manipulation. Its witty neo noir style and vivid prose lure the reader into an adventure that extends the traditional science fiction genre into new literary territory.
2019 winner, New York City Big Book Awards, science fiction category
Distinguished Favorite, 2019 Independent Press Award
Read these rave reviews
---
"A hilarious, wildly imaginative sci-fi caper that never lets up until the very last page." Best Thrillers review
---
… the author takes the premise and molds it into something packed with tension and danger on every page… Lovers of films like Blade Runner or The Fifth Element will fall right into this book. But in an unlikely turn, cat-loving readers may also find a tense tale to enjoy as well. US Review of Books
---
"What a fun book! Pure fantasy, but I did enjoy it immensely! The idea of a huge blue cat, friendly, but independent, as they all are, was right up my alley in a good read. The intrigue and fascination with what is coming in the future (2050) was enough to keep me reading. Most teens and up will thoroughly enjoy this book. I plan to share this one with a 16 year old of mine that "lives in a fantasy world sometimes" and I am sure she will love it. Even if cats and egotistical young men aren't something you particularly want to read about, I recommend it for most all ages. Wholesome and entertaining!" Betty Yoder
"I found this book very easy to read but very hard to put down. The vivid descriptions of the characters and settings Dennis Meredith penned here had me visualizing the scenes as they played out like a science fiction movie. The story line moves at a good pace and the action is non stop which keeps the reader engrossed I think. Timothy, Lulu, Callie, and, of course, the beautiful Cerulean cat are easy to cheer for to be the heroes of this fantastic futuristic tale filled with adventure and intrigue. The Nasties and some of the other genetically modified animals created in the science labs in this story gave me the creeps though. I do love the authors use of palindromes throughout the story as they add some humor to this already fun book. I definitely recommend this to all ages who like futuristic, science fiction mysteries. I look forward to reading more from Mr. Meredith in the near future." Pammysue
"Raymond Chandler meets Philip K. Dick & Roger Zelazny in this futuristic gumshoe tale of a man and his cat. While getting off to a slow and Hemingway-esque start, Mr Meredith quickly gets us involved in the story and the characters making them real and flawed and all the more likable. Add to all this all the twists and turns of a good mystery and you have a good read on your hands. It doesn't hurt that you have as a character a cat who is the holy grail and the Maltese falcon all rolled into one. I especially liked the fact that there wasn't a lot of "woe is me" coming from the put upon hero. He was up for the challenge and willing to take risks for others without so much as one "I just want to quit". Meredith's contribution to the mystery genre is a good bridge between Phillip Marlowe and Rick Deckard." Penny Rosier

"… a great mystery of the future… fascinating and thought provoking." Mennis
"It's exciting from the beginning and lots of twists and turns. Would recommend this book to anyone!" Kim Lanton
"Exciting, riveting, and heartfelt. It kept me wanting more from start to finish." Franken Stitches
"I loved the book and would give it more than five stars if I could.

" Julie
Who would have guessed that driving a taxi would be the start of such a mind blowing adventure. Fast paced futuristic world where nothing and no one is what it appears - will keep you turning the pages of this story to its amazing ending." Ruth Caves
Read the news release: "The Cerulean's Secret asks 'What if there was a blue cat?'"

Explore some of the sources that inspired the book
Order very cool Cerulean's Secret products
Buy The Cerulean's Secret Young Adult Edition Kindle eBook